Description
A modern approach to health is the World Health Organisation's 2001 International Classification of Functioning, Disability and Health (ICF), which shows that health is determined by complex interactions between body functions and structures, activities and participation, and environmental and personal factors.
The ICF can be hard to apply in practice. An adaptation is to consider six 'F‐words':
Function

: what people do. 

Family

: The essential environment for most people. 

Fitness

: Promoting physical fitness and recreation. 

Fun

: What people enjoy doing.

Friends

: Encouraging social development and inclusion, focusing on quality relationships (not the quantity of acquaintances).

Future

: Thinking positively, right from the start. Not deciding what is impossible. 
These F-words are connected: e.g. increasing a person's (self‐identified, meaningful) participation might affect the scope and intensity of activities, and lead to changes in body functions and communication skills.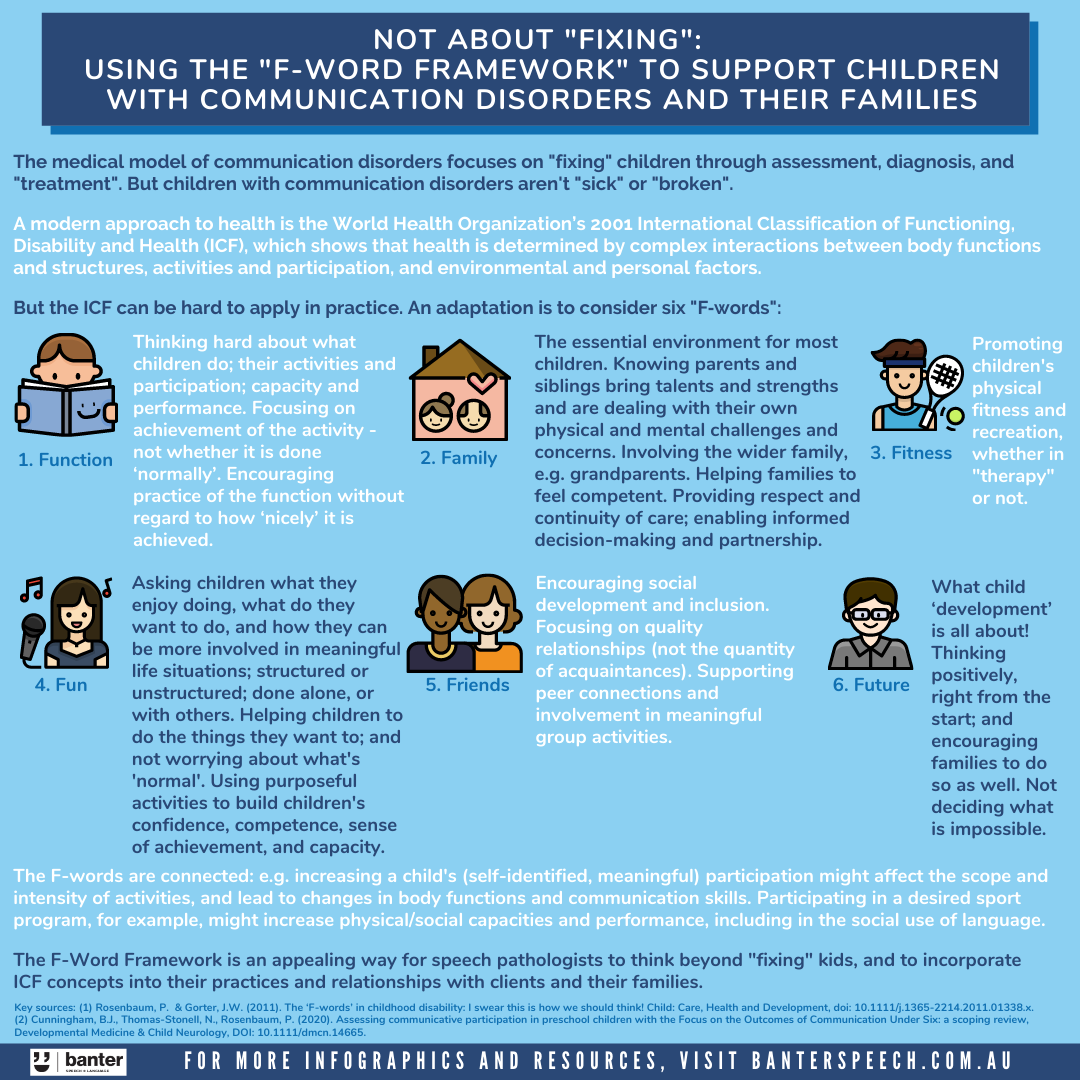 Language sessions for young school-aged children should be positive, engaging, strength-based, and practical. For all these reasons, we like to include conversations about family, fitness, friends, functioning, future, and fun – the 6 Fs!  
This simple resource of conversation starters – over 70 questions in all – is designed to be flexible: it can be used to get to know your clients better, to model questions and answers, to practice turn-taking and topic maintenance (e.g. when paired with your client's favourite board game), to work on short explanations and recounts, or simply to interleave conversations between structured goals and activities so your sessions flow better.
It's suitable for face-to-face and telehealth conversations, with questions that focus on your client's strengths, interests, skills, and goals. 
Related article: